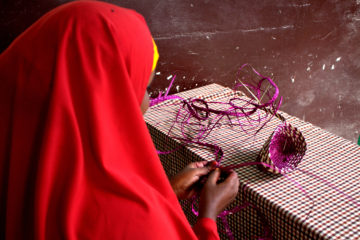 Hope of life returns for Ardo GVB survivor in Somalia
"My name is Ardo*I don't know how old I am but I imagine that I am 23 years old. In last years, my family and I lived in Balcad district of middle Shebelle region in Somalia but originally fled from the capital city.  My family took the decision to leave from Mogadishu because of violence. I married there and have two children. I lived with my husband in homestead. A one night, three armed men entered in our settlement.
They targeted our home and tookme into forest. I shocked and screamed stridently but I didn't receive any assistance. I realized that I was in the hand of enemy. The armed men immediately threw me on the ground, caught me with gun. I fainted and lost my consciousness. The thugs raped me cruelly. I was in my maternity period of my son. This brutal action traumatized and disappointed me.I was going through a difficult time and feeling too much back pain that I could not even give breastfeeding to my child. My family returned to Mogadishu again particularly to Yaaqshiid district where we live now. I shared my case with a woman who was my neighbor and she urgently took me to MCH and I was assisted there by group of females. I shared my whole case with them.  I received counselling and treatment and I returned to stable situation.
Staying at home, Later I received a call that I had been selected and I would be joining 29 other women in receiving the training. This was an intense training; I was picked up in the morning and dropped off at home in the evening. I became part of the students who were told that they will receive free legal aid provision and skills Training.
We were divided into different classes and I was selected to join 15 women who started training on hand crafting and I am able now to identify type plan leave and learnt the importance of using craft material and I gained ability and able to mark small baskets and small mats and huge progress fall in my hand.
I have been herefor two months and my expectation at end of the training is that I will be skillful woman who will have more knowledge and skills and this will help me and my family.
If I make one basket and sell it into market, it will cost at least $5 and this will support to our daily life because my husband doesn't work nowadays. In the next two months, I hope that I will make more improvements, I am proud to be part of this wonderful team and benefit from this golden opportunity that HIWA and CISP gave us.