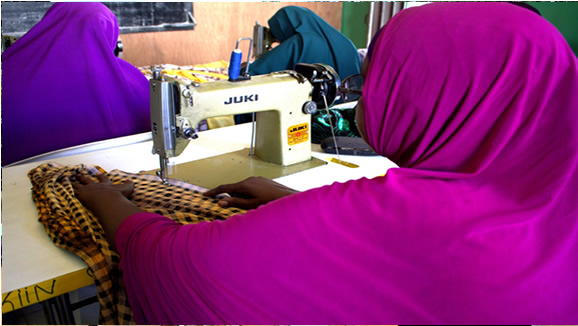 Stories From Beneficiaries Trained
Stories From Beneficiaries Trained
*Maryan, 33 year mother of 4 children. She was one of the beneficiaries of skill training from Boondheere district. Maryan was one of 30 women from Karaan, Boondheere and Yaaqshiid districts, who were trained on vocational skills in Mogadishu. The training which lasted for five months covered business management, revolving fund and dress making and fabric embroidery, Somali writing and ties and dyes.
"An opportunity knocked on my door one sunny day, when several people came by my home in Boondheere; they identified themselves as CISP staff and asked if I would be interested in joining a vocational training program that they were offering. I actually agreed.
" I was led to this centre where HIWA was ready to support me to gain such skills and knowledge, thanks to HIWA for this as well to CISP that encourages and supports the communities in our district,"
We have been here for five months; we passed different times of struggle. I am excited at the fact that I can start up clothes repairing business. I will find space in the village market and set-up my sewing machine there to repair people's torn clothes. I will also apply the business skills I learnt to run my small business. The little I earn will help my family; it will ease my struggle to support my children," Maryan, mother of 5 who lives in an IDP camp in Mogadishu.